New Export Boxes & Crates
No products were found matching your selection.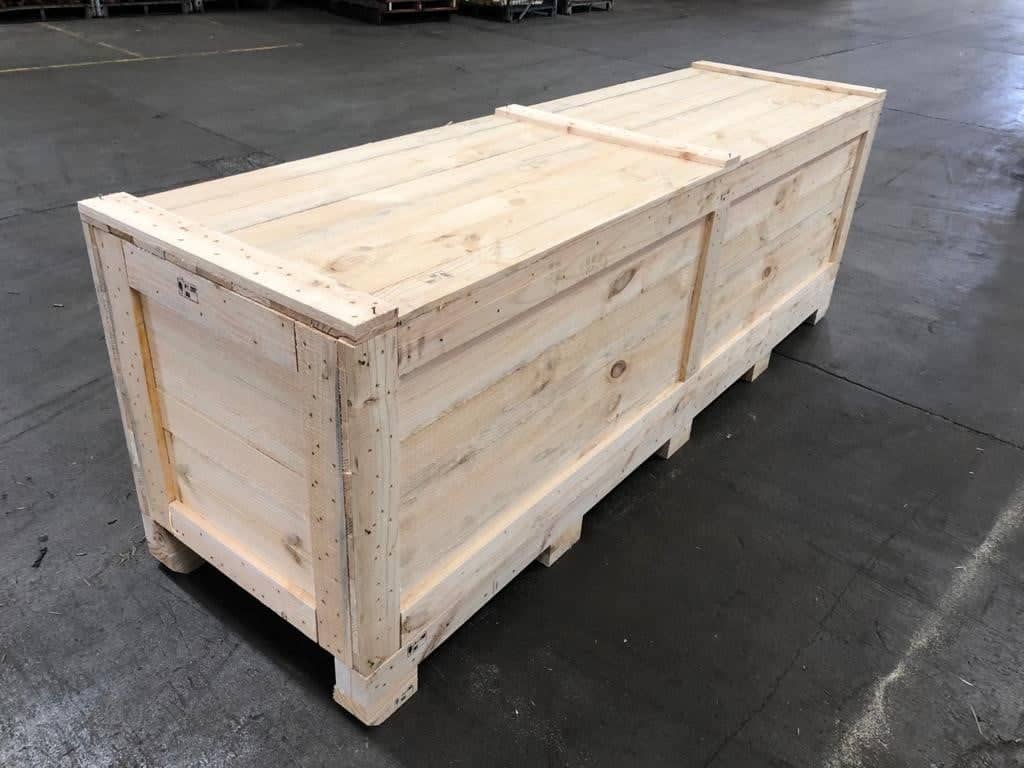 If you are looking to buy reliable and durable wooden crates, you should look no further than Westend Pallets. Completely focused on delivering the highest level of customer service available. The team at Westend Pallets aims to supply their customers with premium quality pallets, cases, crates and other wooden shipping products. Westend Pallets offers a wide range of transportation equipment options, to ensure that your goods arrive at their intended destination hassle-free. To learn more about our wide range of pallets, cases, crates and other wooden shipping products please feel free to contact us today.
At Westend Pallets we prioritise all our customers' needs and requirements to ensure they are completely satisfied with our services. Thanks to 30 years of unmatched and outstanding experience developing a wide variety of custom shipping boxes and pallets, we have established our customers trust, to ensure that their goods and materials will be encased with the highest level of protection whilst in transit. Our team of specialists utilises only the best material to guarantee outstanding results.
To learn more about how we can craft wooden cases and crates to meet your specifications please feel free to contact us today.
Timber Cases & Crates Melbourne
Constructed from the highest quality timber on the market the team at Westend Pallets goes the extra mile to provide our customers with sturdy, durable, and resilient timber crates and cases. From our Altona warehouse our collaborative team always commit to crafting your case or crate in-order to meet your specifications.
With the ability to custom make any crate to your requirements with different dimensions based on your needs, our timber packing crates have helped our customers from across Melbourne to provide them with that extra peace of mind, knowing that their goods are in safe hands.
Wooden Shipping Crates and Storage Boxes
With our firm commitment to delivering the highest standards of quality and customer satisfaction, Westend Pallets is where Melbourne goes to buy wooden crates.
Our extensive range of wooden shipping boxes and crates for sale have assisted Melbourne customers in keep shipped goods safe during transit.
In addition to our custom timber crates and cases, Westend Pallets also constructs solid wood crates and case for customers from all across Melbourne.
Whether you are based in Werribee or as far southeast as Frankston we guarantee same-day delivery for your pallets and related products.
Our exceptional wooden shipping and packing crates are meticulously crafted for safe transportation of your goods. They are fabricated to provide the optimal level of protection from movement during transportation.
Our affordable and customisable wooden shipping crates, boxes, and cases can safely provide reliable shipping solutions for goods of all shapes and sizes. To discuss your shipping requirements or to learn more about our custom designs please feel free to contact us today.
Premium Crates and Timber Cases in Melbourne for Safe and Reliable Cargo Handling
When it comes to the safe transportation and storage of your valuable cargo, having reliable crates and timber cases is non-negotiable. In Melbourne, we offer a comprehensive range of top-notch solutions designed to meet your cargo handling needs with utmost efficiency.
Why Choose Our Crates and Timber Cases?
At Westend Pallets, we understand the significance of robust packaging in ensuring the integrity of your cargo during transit and storage. Our crates and timber cases offer a host of advantages:
➤ Uncompromising Durability: Crafted from the finest quality timber, our crates and cases are engineered to endure the challenges of heavy loads, stacking, and varied environmental conditions. You can trust them to provide superior protection to your goods.
➤ Customised to Perfection: We recognise that cargo comes in all shapes and sizes. Our customisable options empower you to choose the dimensions, features, and designs that perfectly align with your specific cargo requirements.
➤ Versatility at Its Best: From delicate items requiring gentle handling to bulky machinery demanding robust support, our diverse array of crates and timber cases caters to the diverse needs of industries ranging from manufacturing to logistics.
➤ Value for Investment: By investing in durable packaging, you invest in the longevity of your cargo. Our crates and timber cases not only shield your goods from damage but also translate to cost savings by minimising the need for replacements.
➤ Sustainable Packaging: We are committed to environmental responsibility. Our timber is sourced from sustainable forests, making our crates and cases an eco-conscious choice that doesn't compromise on strength and reliability.
Our Product Range
➤ Cargo Crates - Our cargo crates are built to accommodate a wide range of goods, ensuring their safety during transit. Whether it's short distances or long hauls, our crates provide peace of mind.
➤ Timber Storage Cases - Need a sturdy storage solution? Our timber cases are perfect for keeping your goods organised and secure within warehouses and storage facilities.
➤ Custom Solutions - Your cargo is unique, and so are your packaging requirements. Our experts collaborate closely with you to design and create customised crates and timber cases tailored to your cargo's specific needs.
Elevate your cargo handling strategy with top-of-the-line crates and timber cases from Westend Pallets. Secure, reliable, and customisable – our packaging solutions are designed to exceed your expectations. Contact us today or explore our range online to discover the perfect packaging for your cargo in Melbourne.